At FAB 3R, everything is oversized: our facilities, our equipment, the parts we make, repair and refurbish, and our entire range of services! We manage your projects from A to Z—from manufacture to delivery—with the same level of expertise and attention to quality we give all our products.
Machining
FAB 3R's machining capacity will meet the needs of all your projects on large-sized equipment. Our machining shop alone is 65,000 square feet (6,048 m2) and houses not only traditional and digitally controlled machining equipment, but also stationary and portable drill presses and the equipment needed for high-precision machining like precision tables, inspection marble, and more. With these instruments, FAB 3R can provide tolerances not typically possible for large parts.
And even more importantly, the FAB 3R team has unmatched experience in machining very large parts. They can analyze your plans and work with your engineers and project managers to adapt them to provide the best machining solutions for your projects. Their goal is to prevent unpleasant surprises and help you identify potential cost increases or delays.
EQUIPMENT CAPACITIES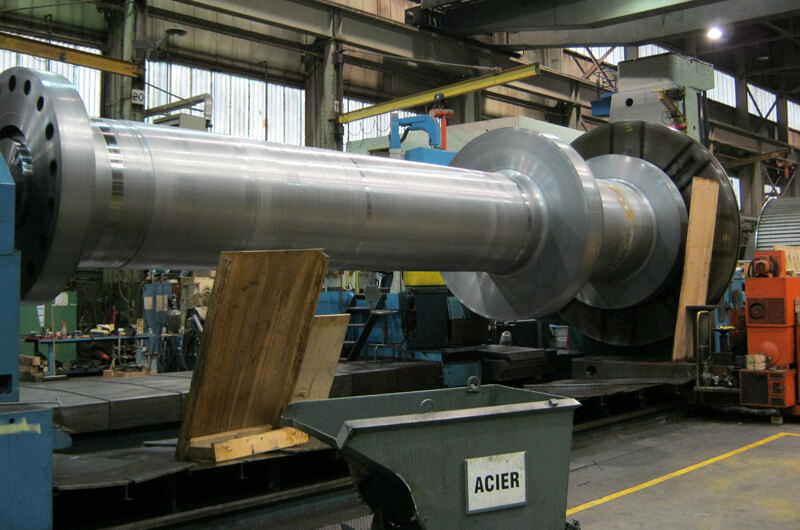 HORIZONTAL LATHES
Load : 110 tons (100,000 kg)
Length : 68 ft (20 m)
Machined diameter : 15 ft (4.7 m)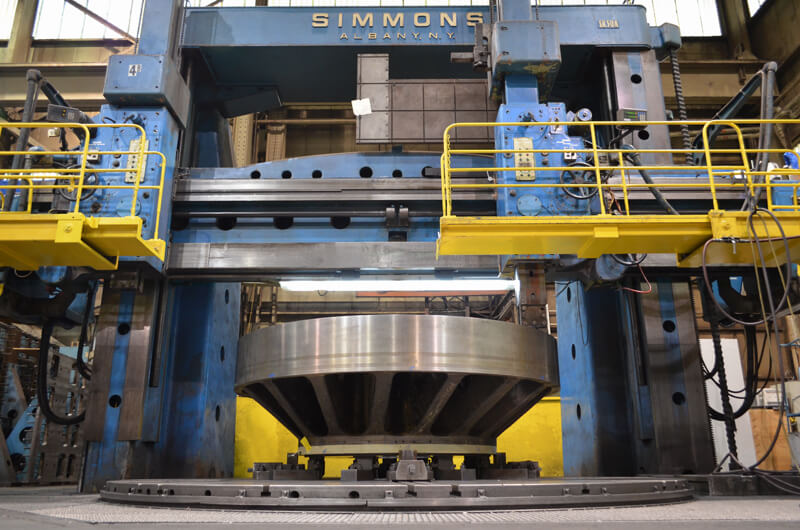 VERTICAL BORING
Load : 50 tons (45,000 kg)
Height : 10 ft (3 m)
Machined diameter : 17 ft (5.3 m)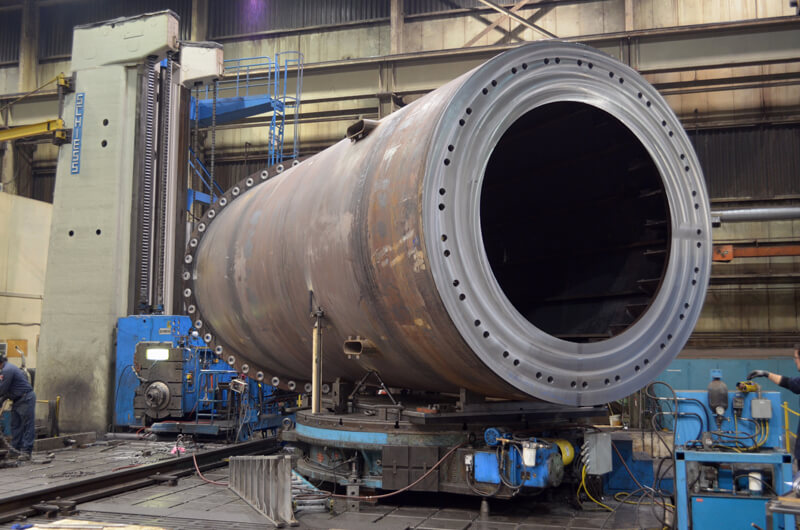 DRILLING
Length : 32 ft (9,75 m)
Height : 16 ft (5 m)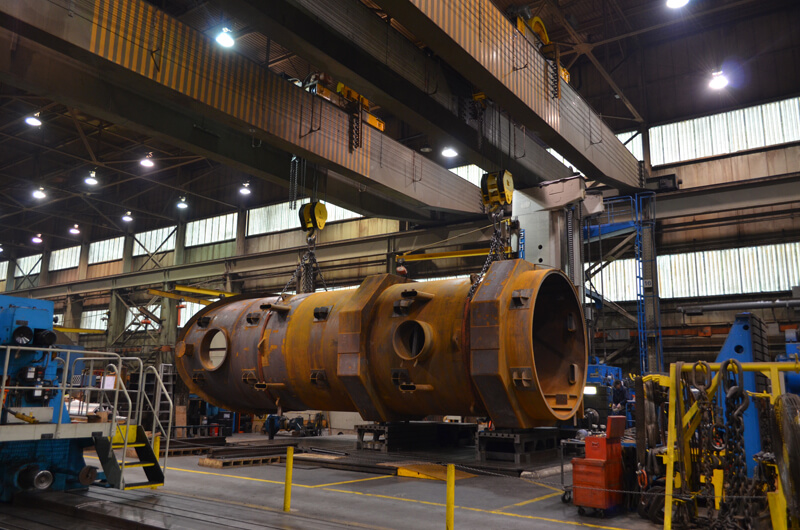 BRIDGE CRANE
Capacity : 110 tons (100,000 kg)
---
Fabrication
The FAB 3R team is able to meet the most stringent welding requests. Certified for ASME, CWB, UStamp, RStamp, and PED, the team uses the most suitable type of welding for your large-sized equipment. The FAB 3R team masters mild and exotic steel welding, and is also skilled in welding on pressure equipment.
FAB 3R also offers a range of non-destructive tests to make sure the equipment meets the specifications and the strictest standards.
With a surface area of over 97,000 square feet (9,000 m2), our fabrication shop is able to do several-month welding jobs on large and very large equipment.
TECHNICAL CHARACTERISTICS
WELDING PROCESSES
FCAW, GTAW, SMAW, GMAW, SAW
MATERIALS
Steel : A36, A516, 44W
Stainless steel : 300 series, Duplex
Exotic steel : Super-Duplex (2101, 2205, 2507), 6-7% Moly
NON-DESTRUCTIVE TESTING
Fabrication operations are rigorously controlled by ONGC-Level 2-certified inspectors :
Dye penetrant
Magnetic particles
Ultrasonic
X-rays
MAXIMUM CAPACITIES
Submerged arc: 20 ft x 20 ft (6 m x 6 m)
Positioners: 12 tons (11,000 kg)
Shear press: 0.5 in thick x 14 ft wide (1.27 cm x 4.2 m)
Press brake: 10 ft x 14 ft (3.1 m x 4.2 m)
Roll forming: 1.25 in thick x 8.5 ft (3.18 cm x 2.6 m)
Max height under hook: 31 ft (9.5 m)
Width and height of doors: 32 ft x 32 ft (9.75 m x 9.75 m)
---
Mechanical assembly
FAB 3R can count on the expertise of its specialized mechanical assembly team. Over the years, our team has come to master all types of traditional assembly work, including sleeve assembly, complex mechanical assembly, surface polishing, and more.
The team also conducts hydrostatic and hydraulic testing, and trial fit and functional tests for new, repaired or refurbished equipment.
We also have two assembly wells equipped with ovens for vertical assembly of large parts.
MAXIMUM CAPACITIES
HYDRAULIC PRESS
500 tons (452,000 kg)
ASSEMBLY PIT
10 ft deep x 10 ft diameter
(3 m x 3 m)
---
Turnkey services
FAB 3R is proud to bring your projects from start to finish, and that's why we also handle surface finishing and the logistics for delivering manufactured, repaired, and refurbished equipment.
Surface finishing
We don't do things halfway at FAB 3R. We also provide our clients with finishing services, including blasting, sanding, and surface finishing.
The FAB 3R team can meet even the most demanding requirements, particularly for paint. From applying a single coat of primer to a complex multi-coat finish process, our specialists follow all the rules to the letter.
By providing all the equipment fabrication and repair services under the same roof, FAB 3R helps you cut costs and production times by avoiding the need to move your parts from one service provider to another.
MAXIMUM CAPACITIES
SANDBLAST ROOM (CONTROLLED ENVIRONMENT) :
19 ft wide x 14 ft high x 40 ft long (5.7 m x 4.26 m x 12 m)
SANDBLAST TENT :
20 ft wide x 20 ft high x 50 ft long (6 m x 6 m x 15 m)
PAINT BOOTH
19 ft wide x 11 ft high x 40 ft long (5.7 m x 3.3 m x 12 m)
TYPES OF FINISHES
BLAST MATERIALS :
steel grit, sand, glass beads
FINISHES :
epoxy, paint, varnish, rubber
Logistics
Located between the Autoroute 40 and the Saint Lawrence River, FAB 3R has easy access to various means of transportation (maritime, road, and rail) to ship your equipment. We can suggest the best shipping method for your budget and deadline.
We're used to handling large-sized parts and are prepared to meet the highest standards in packaging for overseas delivery, container transport, and oversized equipment transport. FAB 3R can guarantee that your equipment will arrive safe and sound, regardless of the route it takes to get there.
---
Shutdown Work

In addition to work in the facility, our team can provide support on site. A technical advisor could estimate the repairs on site and supervise the work. In case of repairs, we provide an experienced team according to the work required: mechanics, welder-fitters and/or machinists. As we are aware of the impact of a plant shutdown may have on production, planned or not, work will be organized according to your schedule.